Sports Minister Namal Rajapaksa has taken to Twitter to congratulate Yupun. The Minister said that this great victory was an opportunity for all Sri Lankans to be proud of.
Short distance runner Yupun Abeykoons set a new Sri Lankan and South Asian record in the men's 100m. Yupun set the world record in 10.16 seconds at the Anhalt German International Championships in Germany, while Himasha Eshan broke the previous record set by Himasha Eshan in 10.22 seconds.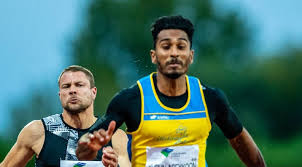 Himasha set the Sri Lankan and South Asian records at the National Athletics Selection Championships in Colombo last year, breaking his own record at the 12th South Asian Games in India in 2016.
In this competition, the 100 meter event champion Denis Almas of Germany lost to the 25 year olds. Almas finished second with a time of 10.18 seconds, followed by Germany's Michael Paul (10.41).
Yupun's best personal time from Pannala National School and St. Joseph's Vaas College, Wennappuwa. 10.51. He was able to improve it to 10.29 seconds in August and was a member of the Sri Lankan team that won the gold medal in the 100m backstroke event at the 13th South Asian Games in Nepal last year.
The Sri Lankan team also set a new South Asian record (39.14 seconds). Yupun, who moved to Italy on a scholarship in 2015, is currently undergoing residential training there, and his goal is to qualify for next year's Olympics in Tokyo, Japan. The 100m event must be completed in less than 10.05 seconds in order to exceed the refinement level of the Games.
More News: