Dr. Sudarshani Fernandopulle, State Minister of Primary Health Care, Epidemiology and Coronavirus Disease Control, General Shavendra Silva, Head, NOCPCO, Chief of Defence Staff and Commander of the Army and Dr Asela Gunawardena, Medical Specialist & Director General of Health Services (DGHS) this afternoon (2) co-chaired one more meeting session of the NOCPCO Task Force, attended by all members and experts in the field at the NOCPCO.
General Shavendra Silva, Head NOCPCO told the meeting that in the past five days alone, more than 800 new cases were detected, majority being from Colombo, Gampaha and Kandy areas. Manageable numbers of tourists arrived in the country to fit with our capacity and guidelines were followed. Likewise, the number of expatriates returning home stood at 500-800 persons per day in the past week.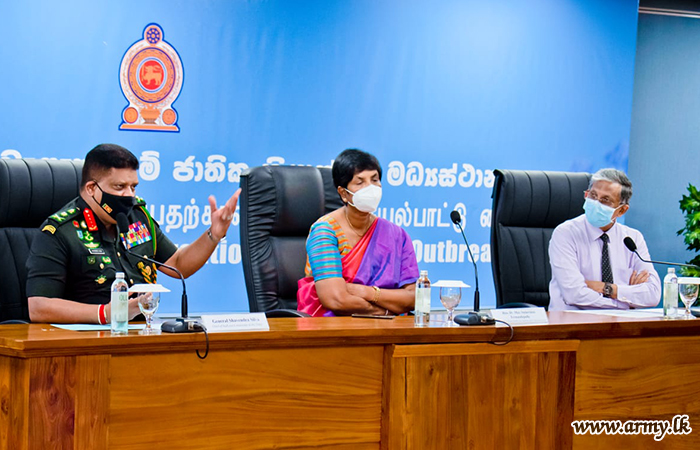 Similarly, Army vaccination process of front line soldiers continued and over 7000 per day were vaccinated in Army hospitals, and the project is now nearing completion. He also told them that a video conference that took place between the Vietnam Army front line specialist and those of the Sri Lanka Army were beneficial as both parties exchanged views on quarantine process of both countries, quite identical to each other. The NOCPCO Head also wants the prevailing quarantine process be reviewed and revised in order to further improve such measures by appointing a special committee for it.
Director General of Health Services, Dr Asela Gunawardene gave statistics regarding discharges and focused on possibility of confining syntematic patients to discharge after 10 days and also compulsory 14 days on quarantine and told the meeting that process itself should be re-visited. The meeting in general touched on the ongoing effective vaccination process, random PCR test systems, current state of patient management in hospitals and Intermediate Care Centres, difficulties in directing positive ones to Quarantine Centres, the status quo in Colombo Municipal Council city area and the course of action that could be taken to restrict large gatherings due to risk factors, and the ongoing repatriation process, etc.
The Task Force closely reviewed new developments and emergency measures in the face of detection of more and more positive cases. Management of isolated areas and locations, infiltration of the virus into new areas, behavioural patterns of the public, conduct of essential services in restricted areas, etc were also discussed during the meeting.
More News: