Sri Lanka confirms two more corona deaths, total 48
Two patients who were being treated at the Mulleriyawa Base Hospital after being diagnosed with COVID-19 have died at the hospital today raising the death toll from the coronavirus epidemic in Sri Lanka to 48, the health authorities said.
Details of the deaths are as follows:
A 54 year old male resident of Colombo 12. The cause of death has been attributed to infection of COVID-19 with chronic lung disease.
A 45 year old male resident of Meegoda area. The leading cause of death was pneumonia due to COVID-19 associated with a secondary bacterial infection.
Accordingly, the Director General of Health Services, Dr. Asela Gunawardena confirmed that the death toll of COVID-19 infected patients from Sri Lanka is 48.
369 Covid-19 cases identify today
The Government Information Department confirms that today 92 more individuals identified with the Minuwangoda-Peliyagoda cluster have been tested positive for Covid-19 (12).
Reports revealed that all of them are close contacts of earlier positive events.
The total number of Covid-19 infections recorded by the Minuwangoda-Peliyagoda cluster reached 12,227, while the daily cases in Sri Lanka today reached 369.
Sri Lanka has reported 15,627 novel coronavirus infections to date with the new development.
10,653 of the confirmed patients have completely recovered from the virus, according to data from the Health Ministry.
The Epidemiology Unit says that at selected hospitals throughout the island, 4,926 active patients are still undergoing medical attention.
More News: Parallel construction of many housing projects begins soon…
Global Update
Coronavirus is continuing its spread across the world with more than 50 million confirmed cases in 191 countries and about 1.3 million deaths.
The virus is surging in many regions and countries that had apparent success in suppressing initial outbreaks are also seeing infections rise again.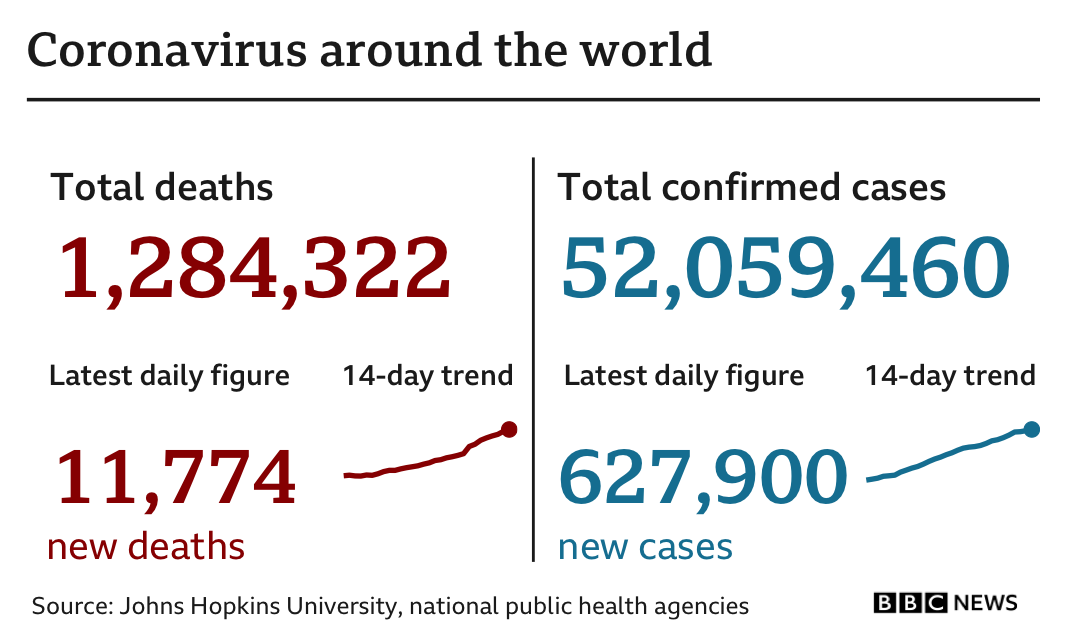 Source: BBC