For the first time in Sri Lankan sports history, a Sri Lankan boxer has been chosen to judge an Olympic gaming event.
As a result, T. Nelka Shiromala, a Chief Inspector of the Sri Lanka Police, serves as a referee and judge for the 2020 Olympic Games, which are being held in Tokyo this year.
Chief Inspector Shiromala has represented the Sri Lanka Police in a number of boxing matches.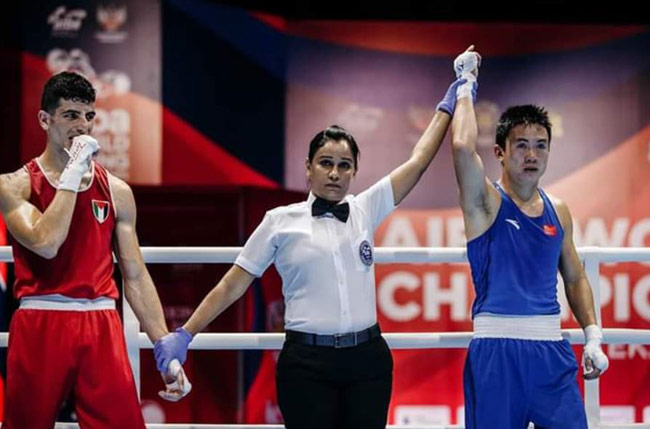 Shiromala took up the sport when women's boxing was first introduced to Sri Lanka in 2000, following in the footsteps of her father, late Navy boxing champion Thambu Sampath.
Her father tragically died last month while she was officiating at the European Boxing Olympic Qualification Tournament in Paris.
Shiromala, Sri Lanka's first-ever winner of the Novices boxing tournament for women, finished second for five years in a row at the national championships between 2001 and 2006.
Shiromala, who began refereeing in 2009, made her international debut as the first Sri Lankan sportswoman to officiate an international sporting event in 2011 at the Indonesian President's Cup.
Shiromala was promoted to 2-star international boxing judge at the London Olympic Test event in 2011, just six months after becoming a 1-star international referee.
She went on to become South Asia's and South East Asia's first female three-star referee.
Shiromala was also named Asia's best boxing judge in 2017.
She was the first female referee from Sri Lanka to officiate a sport at the Commonwealth Games in Gold Coast, Australia, in 2018.
More News:
The Quote:
"Success is not final; failure is not fatal: it is the courage to continue that counts." – Winston Churchill