A routine review meeting of Task Force members in the NOCPCO and other relevant stakeholders including medical specialists got underway on Friday (4) at Rajagiriya NOCPCO, headed by General Shavendra Silva, Head, NOCPCO, Chief of Defence Staff, and Commander of the Army where a range of pertinent concerns on COVID-19 control was re-visited and evaluated with the objective of refreshing related information and updates.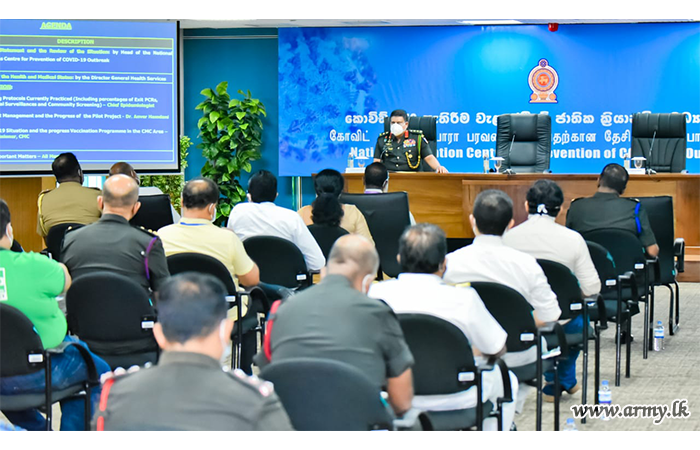 General Shavendra Silva explained reasons attributed to the increase of positive cases as high as some 3000 and pointed out that most of those positive ones were among those who were in quarantine earlier and not new cases, found from society. He also touched on the detection of new variants, their behavior, and the transmission of the same in society.
The need to bring the existing conduct of PCR in a strategic format as well as ongoing PCR test procedures was also touched upon by the NOCPCO Head while underlining the sustenance of it for authorities to properly diagnose cases well in advance for preparation of onward quarantine processes.
Focusing on wider implications upon continuing travel restrictions, he said HE's a decision for continued travel restrictions in consultation with respective experts would yield results, only if we sustain and continue to follow those laid down health guidelines and instructions.
Talking about distribution of essential food items, dry rations, etc through mobile vehicles and tiny outlets as instructed by HE the President, he added that such services have assisted the public on a large scale and enabled small scale businessmen to sustain their livelihoods during these difficult times. He pointed out that the government-organized mechanism at district secretariat levels for passage of food supplies was functional smoothly without much hassle and was facilitated at roadblocks, etc.
The vaccination process, he added, would as HE the President instructed would continue in 9 districts as of now and it will cover more than 12 districts from 8 June onwards with Sinopharm vaccine which is to be prioritized for all above 60 years of age, pregnant women, government officials involved in health roles, et al. "We are getting 2 mn of Sinopham vaccines on 6th June (1 m) and on 9th June (1m). Future strategies will be planned with health officials, heads of universities, economists, representatives of the joint apparel industry, free trade, plantations, education, and higher education, private banking, public transport, etc as they need more and more space for operational aspects," he pointed out.
The Army Chief also summed up details about the arrival of expatriates, amounting to a daily figure of about 1000. Today 18 flights are coming other than from Middle East countries. We are getting expatriates from Japan, Turkey, Malaysia, and Singapore and are having a strict 14-day quarantine system in operation.
Meanwhile, DIG Ajith Rohana also explained the existing system for entry into the cities with a sticker system and a survey conducted by the Police in this connection. Other stakeholders present also expressed their views during the forum.
More News: Australia delivers essential medical supplies to Sri Lanka and 02 more countries