The government of Pakistan has donated over Rs. 700,000 worth of dry rations to Sri Lanka to provide relief to those affected by the country-wide Covid epidemic and floods.
The High Commissioner of Pakistan, Maj. Gen. (Retd) Muhammad Saad Khattak and Deputy High Commissioner Tanvir Ahmad visited Gangaramaya Temple in Colombo Friday (21) and handed over the donation to Piyal Nishantha De Silva, State Minister of Women and Child Development, Pre-School & Primary Education, for distribution in flood relief areas of Sri Lanka.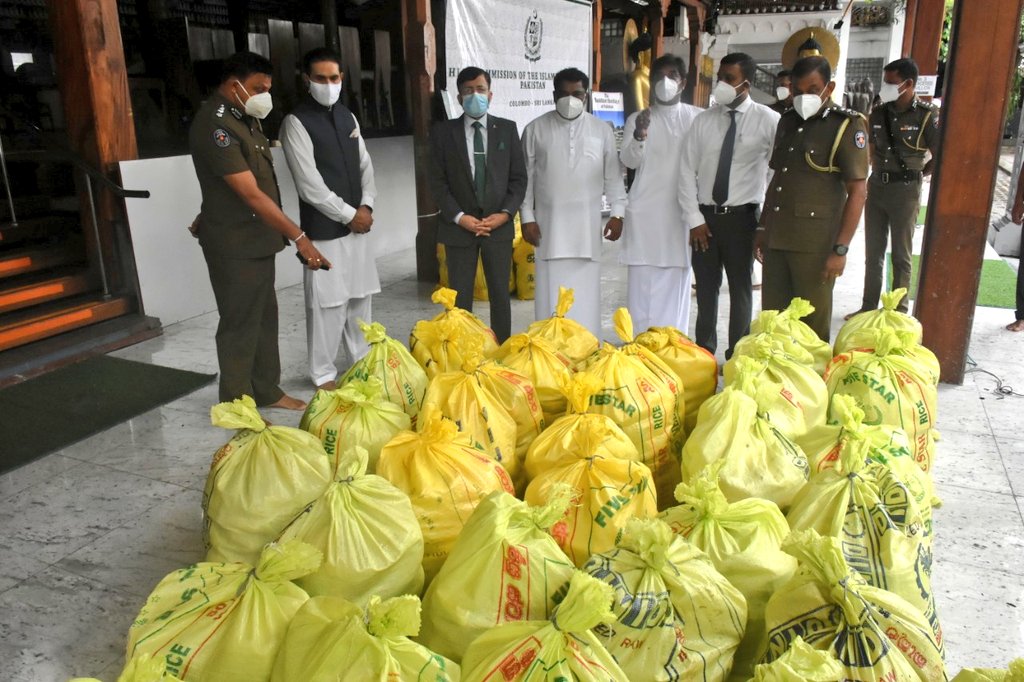 The dry rations were donated at the request made by State Minister Piyal Nishantha during a recent meeting with the High Commissioner and Deputy High Commissioner of Pakistan.
Covid-19 relief supplies were also provided to police affected, which were received by the SSP, the High Commission said.
During the visit, High Commissioner emphasized on the importance of enhanced collaboration between the two brotherly countries for the uplift of the two countries' people. He further said that Pakistan is committed to provide continued support to Sri Lanka.
During the visit, High Commissioner @SaadKhtk emphasized the importance of enhanced collaboration between the two brotherly countries for the uplift of our people. He further said that Pakistan is committed to provide continued support to Sri Lanka. pic.twitter.com/jGU5i0FcS1

— Pakistan High Commission Sri Lanka (@PakinSriLanka) May 21, 2021
More News: