Sri Lanka Army News: General Shavendra Silva, Chief of Defence Staff and Commander of the Army graced as the Chief Guest of the Inter Regiment Netball Championship finals and the subsequent awarding ceremony, held this evening (22) at Panagoda.
The Chief Guest was welcomed by Major General Priyantha Perera, Colonel Commandant Sri Lanka Army Women's Corps (SLAWC) and Commander SFHQ-J, Brigadier Janaka Ratnayake, Chairman Army Netball Committee and few other senior officers.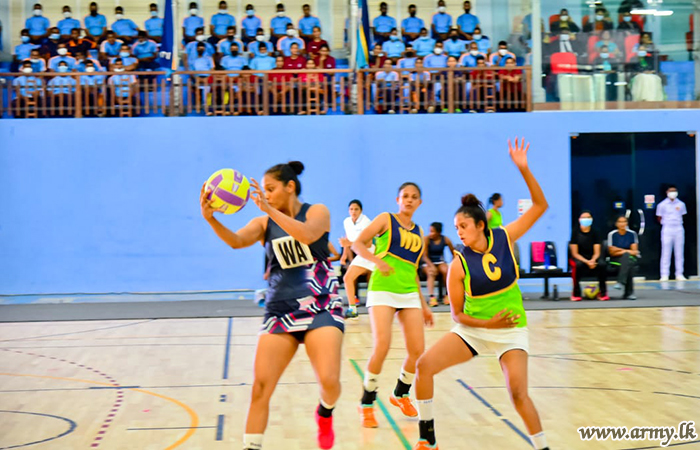 6 Netball teams representing the Regiments of Sri Lanka Military Police, Sri Lanka Army General Service Corps, Sri Lanka Signal Corps and Sri Lanka Army Women's Corps vied in the year's tournament for the championship in close tussles.
Next, the Army chief was invited to witness the final rivalry between SLAWC 'A' and SLAWC 'B' teams in a tight competition. Giving a tough challenge to the rivals, the SLAWC 'A' team finally emerged as Champions in the tournament.
The day's Chief Guest afterwards congratulated all winners and participants before joining the awarding ceremony. Award of Medals, Trophies and Certificates was joined by Major General Priyantha Perera, too.
Senior officers and a gathering of sports fans adhering to health regulations and guidelines witnessed the final events.
Here follow the names of achievers during the Tournament and the final championship:
Best Shooter : Private S.M.A.N Jayasundara
Best Centre Player : Private B.A.A Bandara
Best Defend : Private B.D.S Silva
Netball Queen : Captain P.M.N Abeygunawardena
–Army
More News: