Despite hectic schedules, Lieutenant General Shavendra Silva, Chief of Defence Staff, Commander of the Army, and Head of the National Operations Centre for Prevention of COVID-19 Outbreak (NOCPCO) made it a point to meet and extend greetings to the 1st group of the 7th Army contingent of the Sri Lanka Army Medical Corps (SLAMC), bound for United Nations Peace-Keeping Mission in South Sudan's Level-2 Hospital (UNMISS) when they arrived at the Colombo International Airport during the small hours on Tuesday (17).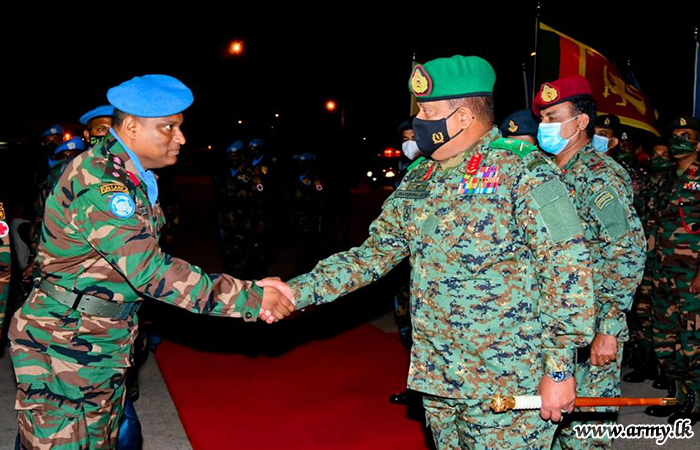 This first team, comprised of 10 Officers and 22 Other Ranks before their boarding formalities interacted with the Army Chief who wished them best of luck and reminded them of the importance of maintaining the highest level of discipline while serving and their commitment to the role and tasks in South Sudan soon after review of a simple parade, presented by those troopers in honour of their Army Chief. He shared a few thoughts with the troops and inquired into their preparedness and other concerns. A few Senior Officers were also at the airport to receive the Commander of the Army.
This South Sudan bound 7th contingent is commanded by Colonel Roshan Jayamanna and made up of 4 Medical specialists, 4 Medical Officers and a Dentist, 1 Commanding Officer, 7 Administrative Officers, 41 SLAMC Other Ranks, including Ward In-charge, nurses, critical care nurses (gynecological), operation theatre technician, Physiotherapy (DPM), radiographer, X-ray technician, SMO/MPH (ECG), dental assistant, dental technician, medical Storman, pharmacist, pharmacy technician, lab technician, lab technologists, hygiene assistant, admin clerk, cooks, ambulance drivers, sanitary duty man, mortuary attendant and 9 Other Ranks from the Sri Lanka Signal Corps, Corps of Engineer Service and the Sri Lanka Army Service Corps.
The other team will depart on 9th December 2020 after the remaining troops of the 6th contingent arrive home on 8th December 2020. The first batch of returnees of the 6th contingent arrived in the country on Sunday (15). Sri Lanka, now recognized as a Troop Contributing Country (TCC) by the UN has come in for praise for her roles and their contribution to the African continent according to the UN reports.
This South Sudan-based new SRIMED Hospital, equipped with necessary components for secondary care medical services, including an operating theatre, labour room, intensive care unit, emergency department, out-patient department, dental surgery, dental workshop, pharmacy, medical store, radiology department, clinical laboratory, ECG room, the sterilizing department, biomedical engineering section, medical waste disposal section, freezer mortuary, isolation ward, and laundry plus wards and an aeromedical evacuation facility with ambulatory resuscitation and ventilation capabilities, is manned by Sri Lankan troops.
In addition, the 5th contingent of 54 airmen of the Sri Lanka Air Force also left for aviation duties in the same UNMISS in South Sudan on the same flight.
Senior officers including Major General Duminda Sirinaga, Deputy Chief of Staff, Major General Pradeep De Silva, Director-General Staff were at the airport to see them off to the UNMISS in South Sudan.
Russian Defence Attaché calls on Defence Secretary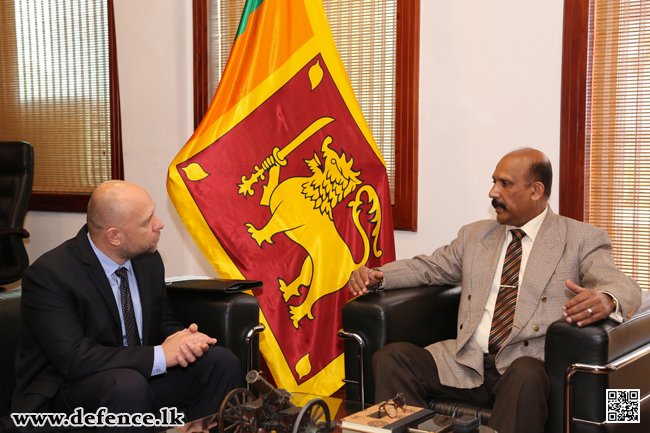 The Defence Attaché of the Russian Embassy in Sri Lanka, Col. Denis I. Shkoda met Defence Secretary Maj. Gen. (Retd) Kamal Gunaratne at the Ministry, recently (Nov 13).
Matters of bilateral importance and mutual relevance were discussed during the cordial discussion held between the Defence Secretary and Col. Shkoda.
Defence Secretary presented a souvenir to Col. Shkoda to signify the occasion.
Mammoth Contribution to 'Thuru Mithuru Nawa Ratak' Plants 100,000 Saplings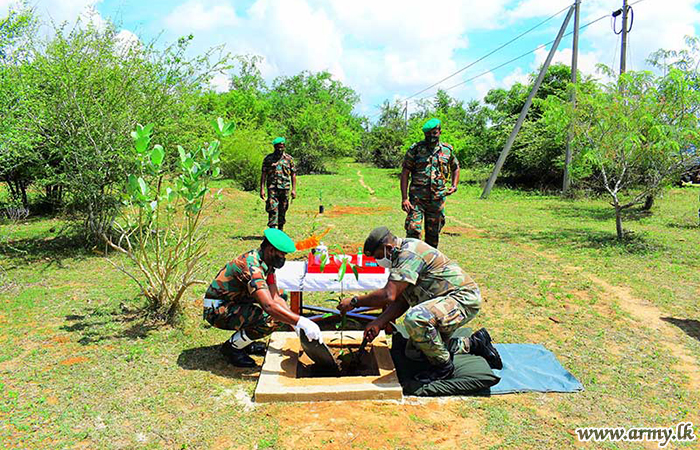 A mammoth sapilng planting drive, launched by the Security Force Headquarters-East (SFHQ-East) as an addition to the 'Thuru Mithuru Nawa Ratak' project, introduced by the Commander of the Army in order to increase the national forest cover and beautify the country saw a record 100,000 seedlings of rare species were planted in state lands across the whole of the Eastern province within a single day, Friday (13) with the participation of about 800-900 of troops serving 22, 23, 24 Divisions and the Forward Maintenance Area -East in the eastern province.
The momentous project took place as a conceptual direction of Major General Chinthaka Gamage, Commander, Security Forces-East with the participation of all General Officers Commanding in Divisions, Brigade Commanders, Commanding Officers, Officers, Civil authorities and a representative gathering of All Ranks while adhering to COVID 19 health guidelines.
Officials in the Forest Department after making state lands available for the gigantic task provided the troops with required 100,000 indigenous saplings such as Mee, Kumbuk, Tamarind, Margosa, Teak, Mahogany, etc at the request of the East Commander free of charge after several rounds of discussions. Accordingly, 22 Division troops in Trincomalee, contributed planting 22,000 saplings, 23 Division in Punani (27,400 plants), 24 Division troops in Ampara (27,193 saplings) and troops of the Forward Maintenance Area-East (25,000 plants) respectively, all of them on the same day (13) in state-owned forest areas as allocated by the Forest Department.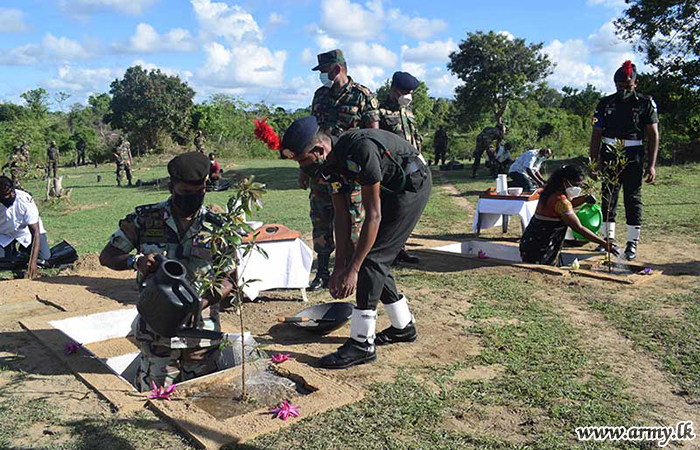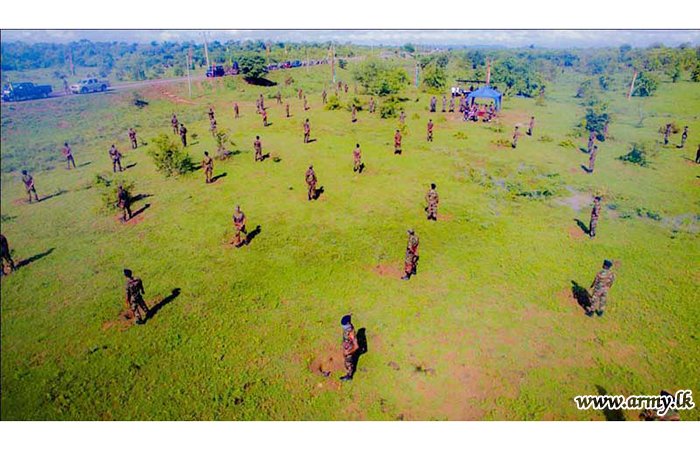 Major General Chinthaka Gamage, Commander, Security Forces-East joined the mega project after visiting the 22 Division area, Minneriya, Meeyankulam and Ampara areas where he too planted several seedlings, symbolized his contribution to the landmark drive and interacted with Officers and Other Ranks, engaged in planting those saplings. The project began in earnest a few days ago after hundreds of troops across the region took to soil preparations and digging of pits, required for planting since the rainy season has set in.
A post-care project that came into effect the same day would continue to take care of those plants through respective troops, responsible for respective areas. The SFHQ-East after identifying most needed areas through Divisions, expects to launch the 2nd re-forestation drive shortly after the Forest Department authorities are prepared to supply the SFHQ-East with the next stock of seedlings after a request to that effect was made.
More News: Cabinet nod to retire 560 SriLankan Airlines employees under Voluntary Retirement Scheme