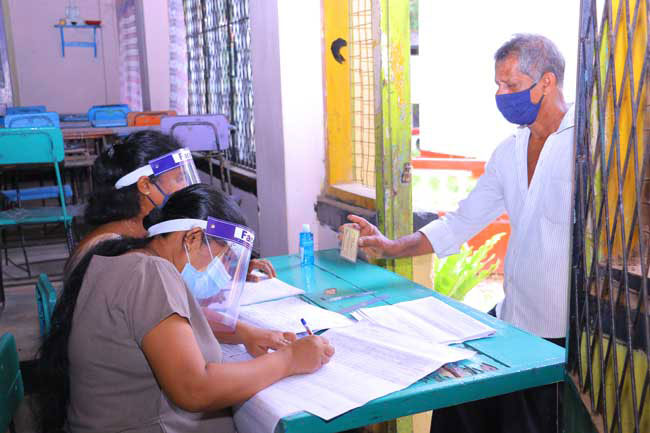 The distribution of the Rs 5,000 allowance given in the quarantine curfew areas of the Gampaha District to 72,345 families will be completed this week, the Secretariat of the Gampaha District said.
The distribution of the allowance started this morning, according to the Gampaha District Secretary, Sunil Jayalath (20).
Therefore, in the Minuwangoda, Divulapitiya, Attanagalla, and Mirigama Divisional Secretariats under the Minuwangoda, Divulapitiya, and Veyangoda Police Divisions, an allowance of Rs 5,000 will be paid for a week from today at selected locations.
For the first phase of this initiative , the government has allocated Rs. 40 million.
The Secretary of the Gampaha District claimed that the required measures have been taken to ensure that the distribution of the relief complies with all the quarantine laws.
Meanwhile, the government has been asked for arrangements for the allocation of the Rs 5,000 allowance in 16 other police divisions in the Gampaha District, District Secretary Jayalath added.
He further claimed that, following the conclusion of Phase I, it is also planned to provide, as a second phase, an allowance of Rs 5,000 for those 16 areas.
More News: Korean Prime Minister Calls Prime Minister Rajapaksa, Discusses Education, Investment and Tourism