The public services rendered by the Department of Motor Traffic, which were temporarily suspended due to the risk of Covid-19, will resume from 20 October, with a small number of staff members and subject to some constraints, with the intention of minimizing the inconvenience to the public.
Customers who intend to receive the services provided by the Motor Traffic Department are therefore requested to contact their offices between 9.00 a.m. and 4.00 p.m. on weekdays and to make an appointment in advance to receive the services provided, including the registration of motor vehicles, the issuance of driving licences, the issuance of number plates and the issuing of vehicle inspection reports.
The Department of Motor Traffic says that no facilities will be given outside the said protocol for any reason whatsoever.
In addition, any facility for the transfer of vehicles to the nearest divisional secretariat or district offices of the Motor Traffic Department has also been made available.
It is therefore best to visit the headquarters only for essential services, the Department said, adding that this would minimize unnecessary public gathering.
In addition, the one-day licensing service offered by the office in Werahera will be withheld until further notice, the Department added.
The said service of issue will be limited to clients who reside within the limits of Colombo Districct or who are working in Colombo, according to the notice. Clients are then expected to decide their residence or jobs in the relevant field.
However, it is strictly recommended that the general public living in the novel coronavirus-hit areas where curfew is currently in place should avoid entering the Department's premises until the risk has been removed.
The Motor Traffic Department urges the clients to adhere to the regulations introduced by the government with regard to hygiene and to act patiently and sensibly.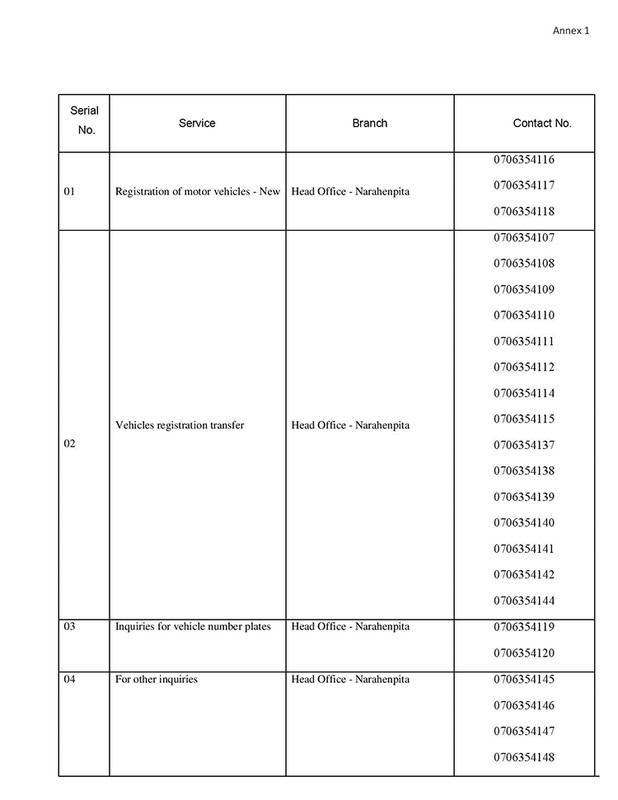 More News: Cargills Food City Becomes The 1st Supermarket To Offer Cashless Mobile Payments