Sports News: The Army Road Race – 2020, an annual feature popular among Army athletes was flagged off by Lieutenant General Shavendra Silva, Chief of Defence Staff, Commander of the Army and Head of the National Operation Centre for Prevention of COVID 19 Outbreak as the Chief Guest at the Army HQ entrance on Saturday (26) with 125 participants, representing 17 Regiments, and ended at Panagoda Army Cantonment covering approximately a distance of about 22 km.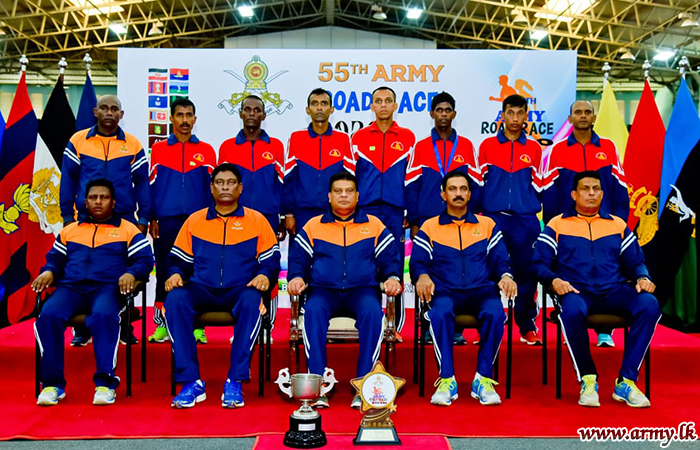 Organized by the Sri Lanka Army Athletic Committee, chaired by Major General Harendra Ranasinghe, Director General, Operations, the annual athletic event, inclusive of about 15 female marathon runners of the Army started off at 6.00 a.m. during a simple ceremony and ran via Diyatha Uyana, Battaramulla, Malabe, Athurugiriya, Habarakada, Godagama along the High Level road up to the Panagoda Army cantonment before the race ended near the Army Gymnasium at Panagoda.
At the finishing venue too, the day's Chief Guest, Lieutenant General Shavendra Silva, providing a catalyst to athletic skills of young soldiers, together with Major General Jagath Gunawardena, Chief of Staff and Chairman, Sri Lanka Amy sports Committee, Major General Harendra Ranasinghe and several other Senior Officers was present at the finish to receive them.
The day's Chief Guest was afterwards invited to award medals and trophies to achievers in the road race, together with Major General Jagath Gunawardene, Major General Harendra Ranasinghe.
The Army Road Race Championship, started in 1951 has to-date produced many national and international level Army marathon runners to the country.
The Army Road Race, held on par with international standards is generally observed by a panel of judges of national and international recognition, following arrangements, made by the Army Athletic Committee.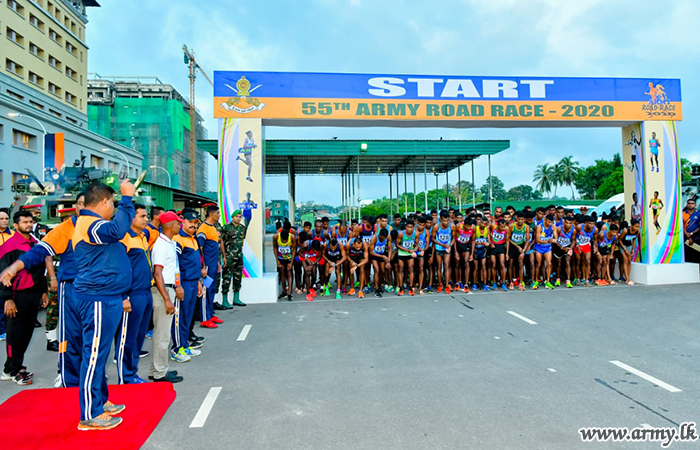 In a subsequent Media interaction, Lieutenant General Shavendra Silva had the following to say:
"Today, the 55th Army Road Race is important because this sort of an event helps uplift sports talents of Army personnel at a time Sports has emerged prominent. By continuing this championship event, we have helped to groom Army sportsmen and women to represent at national and international games. Despite COVID-19 threat, we continued to have this race in order to sustain their athletic skills and spirits of sports,"he remarked.
Touching on COVID-19 updates, he appealed the public to continue their health practices without disregarding them. He also clarified about the foreigner in Matara and said that all investigations to that effect have proved negative.
List of achievers is as follows;
Overall Championship – (Men's Category) – Sri Lanka Artillery
Overall Championship – (Women's Category) – Sri Lanka Army Women Corps
Men's Category
First Place – Lance Bombadier K. Sammugeshwaran – Sri Lanka Artillery
Second Place – Corporal P. K. K. S. M Gunasekara – Sri Lanka Sinha Regiment
Third Place – Corporal G. M. S. R Wijewickrama – Gemunu Watch
Women's Category
First Place – Private W. M Herath – Sri Lanka Army Women Corps
Second Place – Private P. M. S Sewwandhi – Sri Lanka Army Women Corps
Third Place – Private M. G. I. K. K Sugathapala – Sri Lanka Signal Corps